Episodes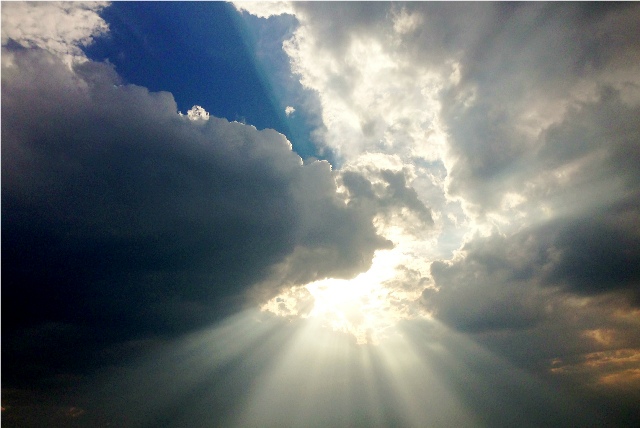 Sunday Nov 20, 2016
Sunday Nov 20, 2016
For most things, if we want to know that something is really true, or actually real, we want to see it, touch it, hold it in our hands, shake it around, and simply check it out for ourselves. I am not likely to buy something sight unseen, just because somebody tells me about it.
Important events in our lives are easier to accept if we are able to physically be there, or see them happen. For example, if you told me one of my family members had been seriously hurt, my first reaction would be to immediately go to them so that I could see for myself how they were. When a major tornado hit Wichita, it happened on the other side of town from where I live. I could hear about the destruction on the news. I could see it in the video coverage, and read about it in the newspaper. However, nothing brought home the real amount of damage the tornado caused until I went to see the damage personally. Seeing whole neighborhoods completely flattened made the storm more than just another news story that we hear about every day, it made it real.
This is how many people feel about Christ and the gospel message of salvation. They hear that Jesus Christ was real and that He is the Son of God, and they say, show me. They hear that there is life beyond the grave and they say, show me. They hear that heaven and hell are real and that you will spend eternity in one of them, and they say, show me. They say if you want me to believe that God exists, show me.
God certainly knows that this is true about us, and so He designed a world that no man could possibly create, and no amount of science could explain, no matter how hard they try. He did this so that man would know that an all powerful Creator existed. God made man so intricate in the mechanical and biological portions of his body, that man would know that he was created, and could not possibly have come into existence by accident. Yet, knowing a Creator existed, and that we were the product of that Creator's work was not enough to allow a holy God to forgive all of the sin that exists in the world. We needed a loving God to provide a path to our salvation from an eternity in hell without God, to an eternity in heaven with God. We needed a Savior, and so God sent His only begotten Son, Jesus Christ, to die on the cross that man might find salvation in His Creator.
And so Jesus Christ, the only begotten Son of God, came to this earth to live as a Man, God incarnate in man, fully God and fully man. He did great miracles as signs to show mankind who He truly was. He healed the sick by the thousands. He made the lame walk. He raised the dead, and He fed thousands using the contents of a lunch box from a small boy. Jesus Christ came knowing that He would be rejected, knowing that He would be beaten and mangled, and knowing that He would be crucified and suffer a horrible death. He did this because He knew that it was only His sacrifice and His precious blood that would allow the terrible sins of man to be forgiven by a righteous God. The blood of animals would never be enough. The blood of mortal man would never be enough. It had to be the precious blood of the Son of God that would wash the sin away in the eyes of God.
God, then raised Jesus from the dead. Jesus walked around in His resurrected body for 40 days and he was seen by hundreds of people. People touched Him, felt of Him, put their fingers through the holes in His hands, and ate with Him. People believed because they had seen Him do those miracles, and they had seen Him die and then rise again. They saw Him, they felt Him, and they touched Him. He was real, all those things really happened, and so they believed.
Yet, all those things happened two thousand years ago. Today, people say they would also like to believe, if only they could see those things as well. If they could see Jesus Christ perform miracles, then maybe they would believe that He was truly the Son of God. If they could see Him in His resurrected form, then they would believe that there was life after death, and they would accept the gospel message of salvation. If only, they could see Him, feel Him, and shake Him around a little just to make sure He was real, then they would believe.
Yet, even if God did do this, we know that many would still reject Christ. Christ was seen by many thousands of people, and still He was crucified. So, seeing is not always enough. Sometimes we need something more. Our memories are faulty, that is why we take pictures and videos of our lives, because we forget. We remember how we want to remember things.
God knew this about us. He knew that seeing, touching, and shaking was not enough. People who did not want to believe would corrupt those memories handed down by oral tradition. He knew these things and so He gave us something more sure than that. He gave us His more sure word of prophecy.
Listen to this podcast to learn how God gave us His written Word, and how we can depend on it to live our lives in His will.